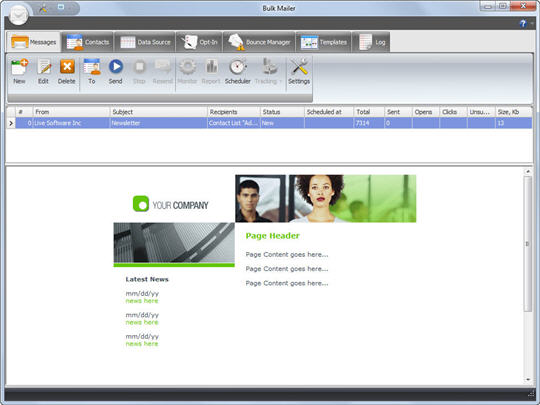 Bulk Mailer is a bulk email sending software program that excels with the myriad aspects of emailing a large number of people simultaneously. Thebulk email sender is designed to simplify time consuming and tedious aspects of a mass mailing campaign and can handle everything from basic email list building to complex HTML newsletters formulation.
In effect, this bulk mailer software program would not require you to enter emails manually nor expect you to have an in-depth knowledge of HTML to formulate newsletters.
The Primary Objective of Bulk Email Sending Software
The main goal of the bulk mail sender is to ensure that online entrepreneurs and marketing specialists have the ability to quickly process multiple emails and newsletters. The inherent process of sending emails is tedious, cumbersome, and extremely time consuming. These inherent limitations or restrictions of mass email sending are what this mass mail sender software program aims to resolve.
The Underlying Working Principle of the Bulk Email Sender Software
The underlying working principle of this software program is automation and scalability. Certain aspects of an email marketing campaign become more difficult when the campaign grows in size. However, this bulk emailer's fundamental concepts are to take these big and tiresome tasks and automate them.
Why This Bulk Emailer Trumps Its Competition
While the online ecosystem is populated by many different types of email sender programs which do the basic task of emailing multiple people simultaneously, most of these software programs are simplistic in nature. This is precisely why our bulk emailer is so ahead of its competition.
Not only would this software allow you to conduct your email marketing campaign like a symphony orchestra but it would also help you add value to your campaign. For instance, your emailing lists and contact information would be completely within your control with this software program.
At the same time, this software program is flexible enough to allow you to send mass emails to contacts which are stored in an external database.
Features of Mass Email Sender
There are many features that you would get access to through our mass email sender. Here are some highlights followed by detailed descriptions.
Exceptional Speed
Flexibility & Adaptability
Personalization & Customization
Monitoring & Modifying
Synergy & Versatility
Speed
The fact that this software has the capability to send more than 20, 000 messages every hour makes it one of the fastest programs in the market. At any point, you would have the ability to use 500 simultaneous connections for sending emails.
In fact, the capacity for speed of this software is such that the speed with which you send emails would only be limited by your internet connection.
Flexibility
There are various sending modes available with this software including Direct Sending, Delay Sending and even Burst Sending. Furthermore, as this email sending software has its own SMTP server, it can bypass your ISP SMTP server.
This gives you the kind of speed that is being touted above. Furthermore, from the security perspective, your data will never get lost because there is a convenient backup and restore facility.
Personalization
This software program is designed to give its users the maximum amount of options. You would be able to use various features such as mail merge, employ customized opt in forms, and even formulatehighly professional newsletters with images, attachments, and even flash.
Monitoring
When you use this software program, you retain full control over your contact lists as they are saved on your computer. Moreover, you also get to modify your lists on the basis of your needs as the program's monitoring features are impeccable.
You can track your emails in terms of various measurements including which ones are opened, where the click comes through, and even which user unsubscribed. There is even a system for managing bouncing emails.
Synergy
As this software program is designed for maximum convenience, it can be used in conjunction with many third party software programs. Some examples of third party modules that this email sending software program can work with include Google Analytics, numerous external CRM databases, Oracle, MySQL, and our own email verifier and autoresponder.
In effect, regardless of how large or unique your email marketing campaign is, our bulk mailer would not only be able to keep up but also improve on it significantly.